Build An Heirloom Rocking Horse

For Your Child or Grandchild

Lumber Sellers

Finding hardwood lumber is not difficult, but may require a bit of creativity. Major chain lumber companies do not carry many hardwoods, so you need to seek out those unfamiliar companies that do. They are often small and tucked away in an industrial park. Check your yellow pages under lumber/hardwood. Telephone a few and inquire about their stock. Do they have many species, or the one you are interested in? What thicknesses do they carry? Are you allowed to hand-pick your boards? Can they plane and sand the lumber? If you are not getting encouraging words check the yellow pages again under cabinetmakers or woodworkers. Pick the smallest ads and telephone for advice. Most of these folks will be happy to help you find a supplier or may be willing to sell you some lumber themselves. When you arrive at the lumber company you will likely find stacks of lumber in a seemingly disorganized warehouse. But, in contrast to the chains, the employees know their stock and are often woodworkers themselves. The lumber for your horse should cost between $20.00 and $50.00.

The forests of America brought out in us, as fate will do, both our best and worst; they molded and they exposed us...First the trees were barriers and ambushes, then the became blockhouses and cabins, gunstocks and cradles, wagon wheels and railway ties. Now they are airplanes and newsprint, plastics and prefabrications. They remain our greatest renewable resource...Always they have been, and will be, beauty and peace. They are the best we have left of wilderness...

A Natural History of Trees

Donald Culross Peattie
This trick rider received a lifelong treasure rocking horse from a woodworker relative.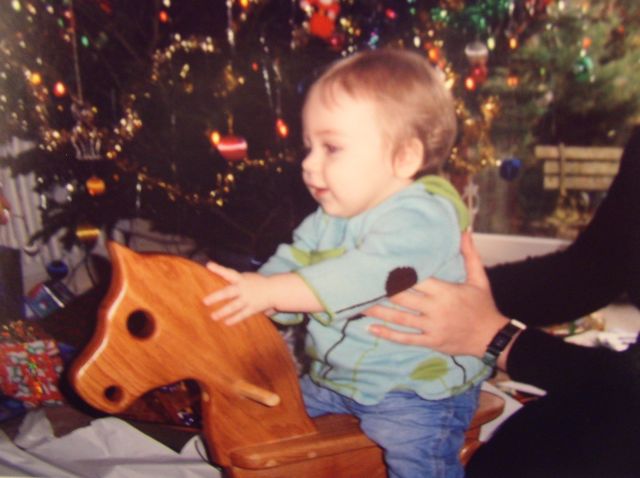 John Michael Linck - Toymaker
2618 Van Hise Avenue - Madison, Wisconsin 53705
Web site catalog at - www.woodentoy.com
Telephone 608-231-2808
email - john@woodentoy.com
Click to see all of John's toys